Hey


Its been quite a while isn't I have done a list post. Todays post is going to be featuring some amazing iPhone and iTouch wallpapers. I currently don't have an iPhone because I can't afford one, however I do know good design when I see it. All afternoon I have been searching the web for good designs that work on the small canvas that is the iPhones screen space.
I have split them up into general categories to make life easier when you are searching through them. If you think I have missed out an amazing design and it should be featured please leave a comment. I have picked ones that show off good artistic talent and not the every day ones you find online. The images have been reduced to save and bandwidth and not make this page half a mile long. Clicking on any of the designs will take you to the website and a full resolution screenshot. If you think I have left one out, please leave a comment.
Colour
The use of colour in any design is vital. Unless you are looking for a monotone image a dash from the paint palette doesn't go a miss. These images take the use for basic colours to create a wallpaper that is a piece of art.
1) George Harrision
A very simple yet beautiful use of swirling colours to make an great wallpaper. The colours really blend into each other to create a colourful masterpiece.
2) Colour Bricks
These I think are coloured bricks, i'm not sure. However the colours do blend well and there is a lot of great texture within the image.
3) Apple News Tree
A swade of colour. Looks like a seat to me for some reason. Will brighten up your day.
4) Colour Bands
I was unsure if I was to put this in the colour section or the abstract section. Here seems a better place.
5) Colour Grid
Although not the highest quality still a really good design.
6) Colourful Lines
I really like this one. Seems so bright and vibrant.
7) Colour Triangles
People seem to like the coloured triangles, there seems to be a few designs featuring this motif.
9) Colour Blend
Abstract
Enough of just colour. Lets add some abstraction into the mix. Although you could define a couple of the previous images as abstract, this section takes this motif to the extreme. Full of clashing colours, opposing lines and general coolness this is the abstract section. My personal favourites are in this section.
10) iRoboTrock
A really good use of colour and light. The site also featured some really good wallpapers if you want to check them out.
11) RetroLight
Some of the best wallpapers are from this small flickr group, the iPhone image above uses a wallpaper from this site.
12) Retro
A great use of colour.
13) Techno Angled
Manipulating the black and coloured lines technique. A great little wallpaper.
14) Abstract Waves
I wish this photo was full resolution so I could use it as my wallpaper. Really cool.
15) Abduzeedo Wallpaper
If you are a fan of Abduzeedo (you should be) check out this cool brokeh inspired wallpaper.
16) The Looking Glass
A great little mixture of colours. Similar to number 8 although by a different artist.
17) iPhone Retro
The first pink wallpaper. One for the girls.
18) Eight Hour Day
Another wallpaper found on Abduzeedo, however by a different artist. A great explosion of colour and shapes.
Text
Moving on from the funky abstract wallpapers. If you want more of the previous images click on any of the images to find more wallpapers. This section is going to focus on wallpapers which use text. Focusing on text enables some really cool designs.
19) Rhythm
A cool blend of colour and text. A create background when you are playing your favourite tunes.
20) Big S
21) AB
A create blend of bold type faces and colour.
22) Hello
Similar to number 19, the simple mix of colour and type is really well designed.
23) Seven Eight Nine
If you can't count its often simpler to put a couple of numbers as your wallpaper.
24) Must Be Legible

Another great mixture of type, colour and design.
25) Live What You Love
26) You Have To Disconnect To Reconnect
A simple message with a create font and design.
27) Copy And Paste
Another really cool wallpaper. Has the iPhone got copy and paste yet?
28) What Did You Learn Today
Today I learned complex number and a lot of Easter chocolate does not agree with the body.
29) Buffet
The full size wallpaper for this image is a bit weird. Its still an amazing design.
30) Seven
33) aForestation
A really weird name for a really cool image. The 3Dness of the design really stands out.
Photo
Moving on from text and abstract photoshop creations we are on to the photographic iPhone wallpaper section. These are photos of every day things at unique angles with great composition. They are designs so you go "WOW" when you see them. Not just a quick snap in an interesting direction.
34) Optimus
You have to love Optimus Prime.
35) Waterfall
A blissful waterfall. I wish I was there.
36) Rockies
I can't remember where this image is taken. But a beautiful smash up of colour and composition.
37) Lizard
38) Buttons
39) All Thats Left
Another image I am sure you have seen before.
40) London Underground
Not the best quality of image, but the angle and speed of the shot make it an amazing iPhone wallpaper.
41) Panda
I'm not sure if it is a real Panda, but it is an amazing shot none the less.
42) Fan Blade
43) Shiny Car
I wish I had a car as cool as this. I wish I had a car.
44) Flower
45) Rusty Door
Really well framed shot
46) Sunset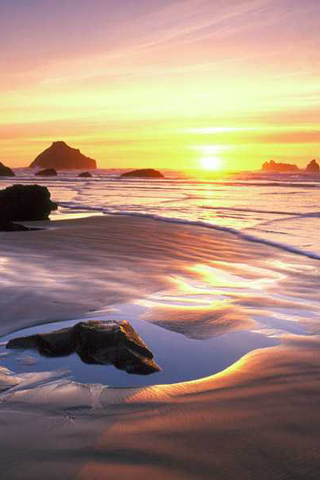 47) Closeup Flowers
I have featured many flowers in this section, but this is a great closeup shot which deserves to be featured.
48) Space
A very iconic space shot of a nebulae. This also works very well as a fullsize desktop wallpaper.
49) Sad Robot
A very sad Amazon robot.
Cartoon
Taking a set back from real life, we are going into the funky world of cartoons. I love cartoons, I think they are amazing, so much so I really need to cut down on the amount of cartoon related stuff I have bought.
50) Crushed R2
I love Gleenz tee's. I actually have this design on a t-shirt. If you want more designs check out the store or visit Threadless for similar great designs.
51) TV Heads
Cheeky Design
52) Lost Generation
53) SilverSurfer
The only white design featured so far. Its the SilverSurfer from X-Men.
54) Unger
55) Happy Car
56) Kiwi
He looks so happy
57) Monster
Argh!
58) MegaByte
But he has one hell of a bite.
59) London Underground
I have seen these 8-bit style images all over the web.
60) Red Monster
Cartoon monster seems to be all the range. Here is a rather creepy red version.
61) Monster Plays Nintendo
Curse those Nintendo Monsters
62) Box Monster
Another monster to add to the mix. Can these designers draw anything ace. Still a cool wallpaper.
63) Family Guy
This should have been number one in the cartoons list, but I didn't find it in time and I can't be bothered to re-number everything.
64) X-Men
A different cartoon image, this time of X-men. Very old school.
65) Blip
Blip the iPhone monster. His bite could hurt.
Design
This section is dedicated to iPhone wallpapers that have a really cool design. Although every wallpaper featured has a cool design, these are ones that don't fit into any of the other sections.
66) Marconi
A create swirling vortex of colour and intricate detail.
67) Doodles
68) Salesman
I don't no how the name of this image relates to the wallpaper.
69) CMYK Lovers
Better than RGB.
70) Artistic Vision
This wallpaper didn't have a name. Looks like something a famous artist would do.
71) Toyland
72) Untitled
73) Command
Take command. A great wallaper paying tribute to the command key.
74) Algas
75) Ana Bannana
76) Arty Hills
By the same artist as number 70. I would definitely check out his or hers collection.
77) Pink Monster
78) Bokeh
Fantastic bokeh shot.
79) Pharaoh
80) Snakes
81) Apatosaurus
82) Engine
If you are an engineer or love engine this is a great little wallpaper to adorn your desktop.
83) Latte
Give yourself a boost of coffee in the morning with a lovely latte iPhone wallpaper.
84) Whiskey Sour
Its five o'clock somewhere.
85) Wall-E
This could possibly belong in the Photo's section, but I really can't be bothered to re-number everything, again.
86) Wake Up
87) Sushi
88) Can I Keep It
I know you can find this t-shirt on Threadless, you will have to look quite far since it is an old tee. I did try to find the link for it, but I didn't have much luck.
89) Watchmen
90) Triangle
91) SteamPunk
92) Original X-Wing
93) PaperCut
94) Science
95) A Splash Of Colour
96) Kwal Blue
97) iDisco Focus
98) ColourBlocks
99) Monster
I did know the name of this monster, but it has since slipped my mind.
Conclusion
Hopefully you enjoyed looking at these amazing designs. If you have an iPhone or iTouch I hope one or two of these images get used as your wallpaper. If any of these are not to your tastes or you don't think they are cool enough leave a comment. Add the one hundredth item to the list.
If you want to keep up with the latests post from Mac Tricks And Tips I recommend you subscribe to the RSS Feed.
Where To Next?